California's Best Equestrian Campgrounds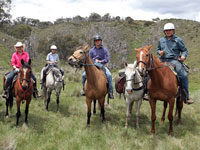 An index to the best equestrian campgrounds in California. Campers with horses and other trail animals have a variety of campgrounds up and down the state from which to choose. The campgrounds are listed here by county, along with Yosemite and Lassen National parks. Counties are arranged roughly from south to north.
While some equestrian campgrounds only offer basic facilities, many are equipped with corrals, watering troughs, horse washing stations, and other great amenities. Some are designated for groups while others offer individual campsites.