Central California's Most Popular Camping Regions
Lakes, mountains, and beaches - Central California campgrounds offer a spectacular array of choices to match everyone's interests.
Choose a region to narrow your choices and we'll guide you to the best camping spots in Central California. Discover the adventures that await you.
Note: To enhance continuity between maps, we have included some overlap with our northern and southern California maps.
Campgrounds along Lake Tahoe's western shore range from quiet little gatherings tucked back among the trees to grand state parks with lake views and desirable amenities.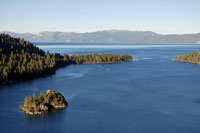 D. L. Bliss State Park - The premier campground along western Lake Tahoe's shore. Great campsites, many with lake views, good amenities, and sandy beaches.
Sugar Pine Point State Park - A popular campground with many campsites set back from the lake. Day use area along the shore.
Fallen Leaf - Spread between Lake Tahoe and Fallen Leaf Lake. Nice campsites, close to Emerald Bay and South Lake Tahoe.
Other campgrounds - Find campgrounds along the Truckee River (popular for rafting and fishing) and all the way south to a city run campground with full hook-ups in South Lake Tahoe.
The beautiful Crystal Basin off Highway 50 a short distance east of Placerville is a wonderland of lakes and trails.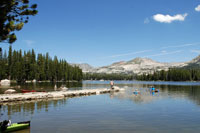 Union Valley Reservoir - A favorite for camping, fishing and waterskiing. Campgrounds nearly encircle the lake.
Wrights Lake One of the most beautiful lakes in the Sierra. With no water skiing, it attracts paddlers of kayaks and canoes as well as anglers. Trails lead out to the Desolation Wilderness.
Loon Lake - This scenic mountain lake is a popular place for those who want a little more solitude
Ice House Reservoir - Ice House is known for good fishing and boating
Sly Park Campground and Jenkinson Lake - Operated by the El Dorado Irrigation District, Sly Park has great amenities for those who want a little more comfort in their camping.
Campgrounds are sprinkled all along Highway 88 over Carson Pass, usually at scenic lakes.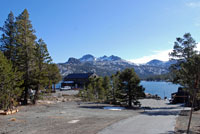 Lower Bear Creek Reservoir - Fishing, waterskiing, and hiking.
Silver Lake - A favorite destination for boaters, anglers, hikers, and mountain bikers.
Caples Lake - Famous for excellent fishing and a trailhead for hiking up the emigrant trail over West Pass.
Woods Lake - A quiet, beautiful lake tucked up against the high peaks.
Blue Lakes - Fishing and boating, not to mention hiking and horseback riding.
Grover Hot Spring State Park - Soak in the mineral hot pool or swim in the larger pool.
Indian Creek - A scenic reservoir popular for fishing.
Less crowded than other areas, Ebbetts Pass is home to some outstanding campgrounds.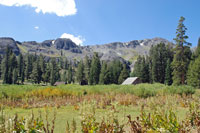 Calaveras Big Trees State Park - Wonderful family camping. Hike along easy trails among Giant Sequoias. Fish, star gaze, enjoy campfire programs.
Lake Alpine - Camp at one of several top-rated campgrounds around the lake. Enjoy boating, fishing, swimming, and campfire programs.
Spicer Meadow Reservoir - Great fishing and boating. Head over to Union and Utica reservoirs for excellent kayaking water.
Wakaluu Hep Yoo - Spend relaxing days at this campground along the Stanislaus River. Fishing is good, swimming in late summer, and campfire programs
Sonora Pass campgrounds are among the best in the Sierra Nevada. Find great family campgrounds all up and down the pass.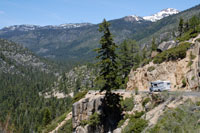 Pinecrest Lake - Camping at its best. Camp near the lake. Enjoy bike paths, a swim beach, summer movies and ranger programs, trails, boat rentals and more.
Fraser Flat - A park-like setting along the Stanislaus River. Wonderful fishing, relaxing days in the mountains.
Niagara Creek OHV - Head out on OHV trails and roads in Eagle Meadow.
Kennedy Meadows - Camp along the river near the resort. Excellent fishing, trail rides, the convenience of stores and restaurant nearby, hike into the Emigrant Wilderness.
Clark Fork - Known best for its fishing, but a great place for horseback riding, hiking, and cycling.
The beautiful Santa Cruz Mountains are rich with redwood forests and fern lined streams. The crown jewel is Big Basin Redwoods State Park.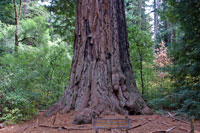 Big Basin Redwoods State Park - A wonderful family camping destination. Groves of huge redwoods, dozens of trails along meandering creeks, wonderful programs for children, and all the amenities of a first-class state park.
Henry Cowell State Park - Easy access of Highway 17 to redwood groves, wonderful camping, and scenic hiking trails.
Memorial County Park - A favorite family destination frequented mostly by locals in the know. Redwoods, beautiful Pescadero Creek with a swimming hole, and nature trails.
Sam McDonald Park's Jack Brook Horse Camp For groups as small as 10 and as large as 40. Wonderful amenities such as horse paddocks, tie post, horse wash-rack, and an outdoor kitchen.
Outstanding lakeside destinations for family vacations. Beautiful mountain lakes surrounding by forests, expanses of water for boating, waterskiing, and fishing. Hiking trails and horseback riding nearby.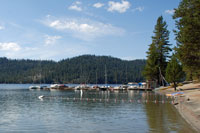 Bass Lake - Wonderful Sierra lake with marinas, boating, waterskiing, fishing, and plenty of other activities for all ages.
Shaver Lake - All kinds of recreation around a beautiful mountain lake. Outstanding campsites at Camp Edison. Boating, fishing, waterskiing, and everything else that makes for a perfect vacation
Huntington Lake - High Sierra camping around a great fishing lake. Marinas, boat rentals, nearby hiking and horseback riding. Campsites right on the lake's shore.
Lake Thomas A. Edison - Deep in the Sierra Nevada, a beautiful lake. Camp close to the shore and enjoy quiet days of fishing and hiking away from the crowds.
Pine Flat Lake - Low elevation lake accessible year-round, great fishing, boating, and camping.
Sprawling Lake Oroville along with nearby reservoirs such as New Bullards Bar provide visitors with great facilities for lakeside camping.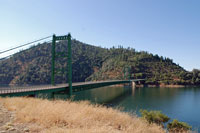 Lake Oroville - Good lakeside campsites for boaters and anglers. A wonderful equestrian campground. Boat-in and unique floating campsites around the lake.
New Bullards Bar Reservoir - A smaller, quieter lake with excellent fishing and waterskiing. Well-organized campgrounds.
Collins Lake - For family fun camping, it's hard to beat.
Englebright Lake - All the camping is at boat-in campgrounds along the shores of this long, winding lake.