Northern California's Most Popular Camping Regions
The varied regions of northern California offer a wide range of camping opportunities from rugged beaches to towering redwoods, from sparkling lakes to snow-capped volcanoes.
Choose a region to narrow your choices and we'll guide you to the best camping spots in California. Discover the adventures that await you.
Note: To enhance continuity between maps, we have included some overlap with our central California map.
On the east side of Donner Summit are a variety of lakes with camping opportunities. Some sites are favored by waterskiers and anglers, others offer even more.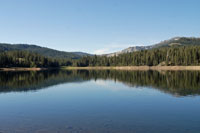 Donner Memorial State Park - Camp close to one of the most beautiful lakes in California. Enjoy water sports and learn about the history of the ill-fated Donner Party.
Jackson Meadows Reservoir - Off the main road, Jackson Meadows is popular for fishing and waterskiing. Great campgrounds are found all around the lake.
Stampede Reservoir - Good campground facilities close to a premier fishing lake attract campers all summer and long into the fall.
Lakes around Nevada County offer some of the easiest to reach camping destinations from the greater Sacramento area.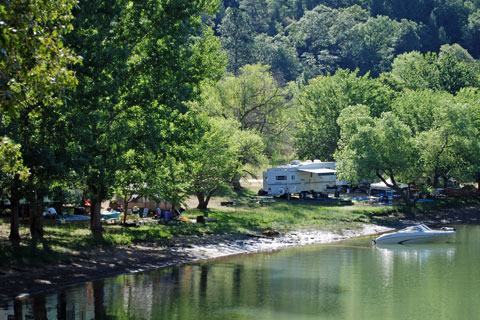 Rollins Lake - Easy access off I-80 at Colfax. Four campgrounds with RV and tent sites, all with boat launch ramps and marinas. Waterskiing, fishing, swimming.
Scotts Flat Lake - Tucked away in the mountains east of Nevada City, Scotts Flat Lake is a favorite with locals. Sailing, waterskiing, fishing.
Inn Town Campground - The newest camping destination in Nevada County, with tent and RV sites, along with Glamping (tents on platforms).
Sonoma, Napa, Lake, Yolo, and Marin counties - wine country, lakes, coastal mountains, and beaches - campgrounds north of the San Francisco Bay Area have a wide variety of offerings.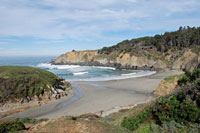 Lake Berryessa - Over 18,000 acres of great fishing. Campgrounds in transition as new management takes over, but sites like Putah Canyon and Pleasure Cove are available.
Lake Sonoma - A smaller lake with 97 campsites at Liberty Glen
Clear Lake - California's largest freshwater lake entirely within the state. Camp at Clear Lake State Park.
Sonoma Coast Beaches - Enjoy the wild and rugged Sonoma Coast. Camp right next to the sand at Wright's Beach or close to the bay at Bodega Dunes.
Salt Point - North of Sonoma Coast beaches is Salt Point State Park with two great campgrounds.
Sonoma Regional Parks - Great beach camping at Gualala, Doran, and Stillwater.
Pillsbury Lake - Find adventure at more remote lakes such as Pillsbury and Letts Lake.
Campgrounds along Lake Tahoe's western shore range from quiet little gatherings tucked back among the trees to grand state parks with lake views and desirable amenities.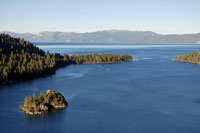 D. L. Bliss State Park - The premier campground along western Lake Tahoe's shore. Great campsites, many with lake views, good amenities, and sandy beaches.
Sugar Pine Point State Park - A popular campground with many campsites set back from the lake. Day use area along the shore.
Fallen Leaf - Spread between Lake Tahoe and Fallen Leaf Lake. Nice campsites, close to Emerald Bay and South Lake Tahoe.
Other campgrounds - Find campgrounds along the Truckee River (popular for rafting and fishing) and all the way south to a city run campground with full hook-ups in South Lake Tahoe.
The vast Plumas National Forest has good campgrounds scattered across its woodlands, along dashing rivers, and around beautiful mountain lakes.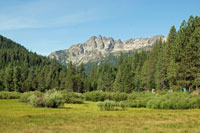 Bucks Lake - West of Quincy this pretty mountain lake has good camping and excellent fishing.
Little Grass Valley Reservoir - Another beautiful mountain lake with an abundance of camping choices around its shores.
Sardine Lake - A spectacular mountain lake with good camping close by.
Plumas-Eureka State Park - Comfortable campsites in a park filled with gold mining history
Frenchman and Davis lakes - Each one a Mecca for fishing and boating.
Sprawling Lake Oroville along with nearby reservoirs such as New Bullards Bar provide visitors with great facilities for lakeside camping.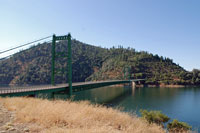 Lake Oroville - Good lakeside campsites for boaters and anglers. A wonderful equestrian campground. Boat-in and unique floating campsites around the lake.
New Bullards Bar Reservoir - A smaller, quieter lake with excellent fishing and waterskiing. Well-organized campgrounds.
Collins Lake - For family fun camping, it's hard to beat.
Englebright Lake - All the camping is at boat-in campgrounds along the shores of this long, winding lake.
Anglers from around the state know Lake Almanor is one of the top fishing destinations in Northern California.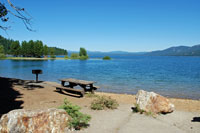 Lake Almanor - Around the lake are Forest Service, private, and PG& E campgrounds, all with wonderful facilities.
North of the Lake - A couple of less-known campgrounds north of the lake are well worth investigating.
Lassen Volcanic National Park makes for a wonderful camping destination. All around the park are interesting sites from caves to volcanoes, from lakes to steaming mud flats.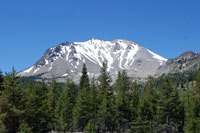 Manzanita Lake - The best campground in the park with a great lake for kayaking, hiking trails, and abundant facilities.
Juniper Lake - Remote and beautiful. Very good campground with scenic views of the lake and distant Lassen Peak.