Southern California's Most Popular Camping Regions
Lakes, mountains, and beaches - Southern California campgrounds offer a spectacular array of camping choices to match everyone's interests.
Choose a region to narrow your choices and we'll guide you to the best Southern California campgrounds. Discover the adventures that await you.
Note: To enhance continuity between maps, we have included some overlap with our central California map.
Along the Santa Cruz and Monterey county coasts are a string of nice beach campgrounds as well as a couple popular inland destinations.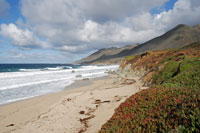 Santa Cruz Area Beaches - Enjoy New Brighton's popular bluff-top sites or Seacliff's beach-front RV campsites.
Big Sur - South of Monterey the Big Sur coast's rugged shoreline is famous around the world. Settle into comfortable sites at Pfeiffer Big Sur State Park's inland campground or head farther south to less-often-frequented Limekiln and Kirk Creek campgrounds.
Pinnacles National Park - Explore caves, hike among massive rocks, watch rock climbers scale vertical walls, and keep your eyes open for giant condors.
A variety of wonderful campgrounds spread along the central coast from in San Luis Obispo County and inland to several popular recreation lakes.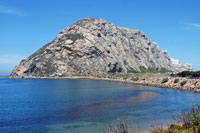 Hearst San Simeon State Park - Campgrounds at the state park make a wonderful place from which to visit Hearst Castle, watch elephant seals at Piedras Blancas, and take in the ambiance of Cambria.
Morro Bay - Campers at Moro Bay State Park can paddle around the bay in kayaks, bask in the sun on nearby beaches, and explore Montaña de Oro State Park.
Pismo Beach - Camp at Pismo State Beach and roll your 4-wheeler out at Oceano Dunes, or wend your way north to beautiful Avila Beach.
San Antonio and Nacimiento Lakes - Camp on the shore of a great fishing and waterskiing lake.
Coastal areas of Santa Barbara and Ventura counties are known for wonderful beach camping as well as some great lakes.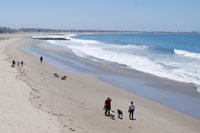 Carpinteria Beach - Ever popular Carpinteria Beach has a string of great ocean-side campsites for both tents and RVs, excellent facilities, and a variety of attractions.
El Capitan State Beach - Campsites among the trees on bluffs overlooking a beautiful stretch of ocean.
Cachuma Lake - Only a short drive from Santa Barbara, Cachuma Lake is known as a fishing paradise. Campers enjoy a swimming pool, playgrounds, fireside theater, marina, golf, and more.
Lake Casitas - With more than 400 campsites along its shore, Lake Casitas is one of the most popular recreation destinations in Ventura County. A water park, fishing, disc golf, and cycling are only a few of its attractions.
With the Angeles National Forest and a number of great lakes, residents of the greater LA area have a wide range of camping choices close at hand.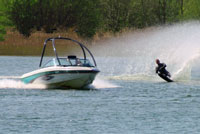 Silverwood Lake - Camp on the shore of one of the area's most popular lakes. Fish, jet ski, waterski, relax, and enjoy the warm sunshine.
Angeles National Forest - Drive up the Angeles Crest Highway for wonderful views of the area and a variety of campgrounds. Hike, mountain bike, sit by the campfire, and gaze at the stars.
Castaic Lake - Camp beside the Lagoon where you can fish, swim, and paddle your kayak. Or take your boat up to the main lake for waterskiing and wakeboarding.
Lake Piru - Find nice campsites at Lake Piru in the shade of olive trees. Enjoy boating, waterskiing, fishing, and now even jet skis.
Malibu Creek State Park - Tucked away among the trees north of Malibu is a pretty little state park with hiking trails and a pleasant campground. Close enough to drive to the beach for the day.
From Malibu to San Diego, Southern California beach campgrounds are among the most popular in the state.
Leo Carrillo State Park - Great amenities at the campground with a short stroll to scenic beaches. Close to popular Zuma Beach.
Crystal Cove - Enjoy full hook-ups for your RV, tour historic beach cottages, tide pools, and the Outdoor Nature Center. Swim, surf, and relax on the sand.
San Clemente - Camp near Calafia Beach and stroll miles of warm sand. Fish from the pier or try a little surfing at popular spots.
San Onofre - Great year-round camping at San Mateo Campground, popular surfing spots, nature trail.
South Carlsbad - Wide, sandy beach near well-known surfing destinations. Full hook-ups now available. Rent bicycles and cruise the Carlsbad Seawall Promenade.
A number of wonderful country regional parks highlight the camping opportunities in Orange County and in western Riverside County. With easy access from urban areas, the campgrounds make great weekend retreats.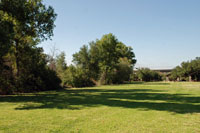 Ronald W. Caspers Wilderness Park - Located only a short drive east from San Juan Capistrano, Caspers Wilderness Park offers RV and tent camping along with group and equestrian campsites.
Rancho Jurupa Park - Enjoy nice campsites hardly a mile from Riverside.
Lake Perris - Bring your boat and enjoy days on the water. RV sites have partial hook-ups.
Slip away into the San Bernardino National Forest south of Big Bear Lake and find a wonderul array of campgrounds near Jenks Lake. The campgrounds are only about a half hour drive from Big Bear.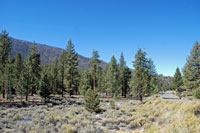 Barton Flats Campground - Hike and fish along the Santa Ana River or spend the day and Jenks Lake. Relax in camp with great amenities like restrooms with flush toilets and hot showers.
Heart Bar Campgrounds - Set out on hiking and horseback riding trails into the San Gorgonio Wilderness.
South Fork Campground - Camp next to the Santa Ana River and hike on the Santa Ana River Trail. Attend campfire programs at Grayback Amphitheater.
Soaring peaks and secluded valleys make the San Jacinto Mountains a wonderful camping destination.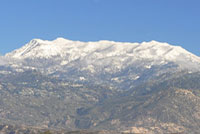 Mount San Jacinto State Park - Camp at Idyllwild Campground and enjoy great amenities. Hike the nature trail, tour the visitor center, and spend time in the Idyllwild Nature Center.
San Bernardino National Forest - Adventurous campers find some great campsites which can serve as bases for launching hikes into the wilderness. Discover the Panorama Point Trail or spend the day at Lake Fulmore.
Riverside County Parks - Several county parks in the area offer comfortable camping and access to all the recreation in the area. Try camping at Idyllwild, Hurkey Creek, and McCall Equestrian county parks.
Camping in the shadow of famous Palomar Mountain is a unique experience. Many area campgrounds have star gazing programs.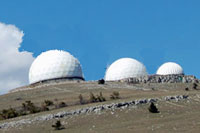 Palomar Mountain State Park - Palomar Mountain State Park is at 5,000 feet, several miles west of the observatory. Hike the Doane Valley Nature Trail and fish in Doane Pond.
Observatory Campground - Only 2½ miles from the observatory. Participate in the Explore the Stars - Sky Parties offered from spring through fall.
Dripping Springs Campground - Gateway to the Agua Tibia Wilderness, a favorite staging area for equestrians.
The vast Anza-Borrego Desert State Park has a beauty all its own from jagged peaks to secluded canyons. Nearby are even more campgrounds in state parks, county parks, and the Cleveland National Forest.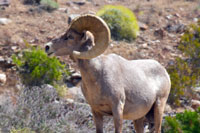 Anza-Borrego Desert State Park - Camp at Borrego Palm Canyon and enjoy interpretive trails, panoramic overlooks, and native fan palms.
Agua Caliente Regional Park - Enjoy geothermally heated springs, camping with full hook-ups, desert hiking, and perhaps a sighting of Bighorn Sheep.
Cuyamaca Rancho State Park - Adjacent to Anza-Borrego, Cuyamaca Rancho State Park rests at 5,000 feet. Campers enjoy hiking to the summit of Stonewall Peak and boating and fishing in nearby Lake Cuyamaca
William Heise County Park Tent and RV camping with great amenities from showers and electric hook-ups to a full activity program offered by San Diego County Parks and Recreation.